Home Page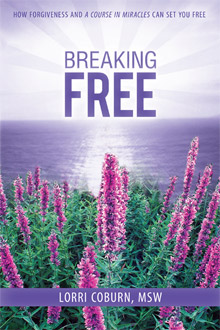 Do you want to know what A Course in Miracles teaches, in a simple format?

Have you suffered a loss that you can't get over?
Has someone harmed you and you know you need to forgive, but just can't?
Breaking Free may have the answers for you.
Click here to read excerpts from the book.
Click here to order Breaking Free: How Forgiveness and A Course in Miracles Can Set You Free.
Thank you for your interest! Blessings, Lorri Coburn
Click here for a free email newsletter with practical tips to help you apply forgiveness to everyday situations.
Join me at an amazing virtual conference on A Course in Miracles! Twenty-three wonderful teachers, an entire weekend of messages of healing through A Course in Miracles--all for only $39 (Aug. 22 price increases to $49; Sept. 22, $59). I will be speaking on how my depression healed through ACIM, when psychotherapy only taught me to manage it.
This is one conference you do not want to miss! October 17-19, 2014. Click the link below for more information and to register. Register now and save!