Breaking Free Book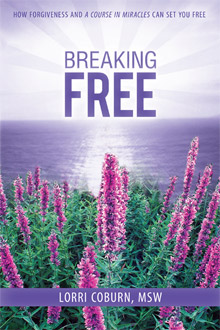 Do you want to know what A Course in Miracles teaches, in a simple format?

Have you suffered a loss that you can't get over?
Has someone harmed you and you know you need to forgive, but just can't?
Breaking Free may have the answers for you.
Click here to read excerpts from the book.
Click here to order Breaking Free: How Forgiveness and A Course in Miracles Can Set You Free.
Thank you for your interest! Blessings, Lorri Coburn